Pakistan
Contact person for provided information:
---
Last modified on 10-Nov-2015
Johum Fatimah Mirza Institute of Geographical Information Systems (IGIS), National University of Sciences and Technology (NUST), Islamabad, Pakistan. MS Research Student fatimah10@igis.nust.edu.pk
Muhmmad Adeel Department of Urban Studies, University of Hong Kong (HKU), Hong Kong. (Ph. D) candidate

Javaid Akhtar, Member Lahore Development Authority Commission, Government of Punjab, Lahore javid393@aol.com (updated and modified part C of document)
Part 1: Country Report
---
---
A. Country Context
---
A.1 Geographical Context
Last modified on 11-Oct-2012
Pakistan officially the Islamic Republic of Pakistan is a sovereign country in South Asia covering an area of 796,095 sqkm (307,374 sq mi). With a population exceeding 180 million people, it is the sixth most populous country in the world. Located at the crossroads of the strategically important regions of South Asia, Central Asia and Western Asia, Pakistan has a 1,046-kilometre (650 mi) coastline along the Arabian Sea and the Gulf of Oman in the south and is bordered by India to the east, Afghanistan to the west and north, Iran to the southwest and China in the far northeast. It is separated from Tajikistan by Afghanistan's narrow Wakhan Corridor in the north, and also shares a marine border with Oman [1]. According to Ministry of Environment, Government of Pakistan land use classification, Pakistan consists of 26.9% of range land, 24.5% of exposed rocks,19.9% of agriculture land, 10% of open land, 9.7% of deserts,5.4% of forests, 2.2.% of snow/glaciers, 0.5% of water bodies, water logged and saline bodies [2]. Pakistan is divided into three major geographic areas: the northern highlands, the Indus River plain and the Balochistan Plateau. Ranging from the coastal areas of the south to the glaciated mountains of the north, country's landscapes vary from plains to deserts, forests, hills and plateaus.
A.2 Historical Context
Last modified on 11-Oct-2012
The territory of modern Pakistan was home to several ancient cultures, including the Neolithic Mehrgarh and the Bronze Age Indus Valley Civilisation, and has undergone invasions or settlements by Hindu, Persian, Indo-Greek, Islamic, Turco-Mongol, Afghan and Sikh cultures. The area has been ruled by numerous empires and dynasties, including the Indian Mauryan Empire, the Persian Achaemenid Empire, the Arab Umayyad Caliphate, the Mongol Empire, the Mughal Empire, the Durrani Empire, the Sikh Empire and the British Empire. As a result of the Pakistan Movement led by Muhammad Ali Jinnah and India's struggle for independence, Pakistan was created in 1947 as an independent nation for Muslims from the regions in the east and west of India where there was a Muslim majority. Initially a dominion, Pakistan adopted a new constitution in 1956, becoming an Islamic republic. Pakistan is a federal parliamentary republic consisting of four provinces and four federal territories. It is an ethnically and linguistically diverse country [1].
A.3 Current Political and Administrative Structures
Last modified on 11-Oct-2012
Pakistan is a federation of four provinces: Punjab, Sindh, Khyber Pakhtunkhwa and Balochistan, as well as the Islamabad Capital Territory and the Federally Administered Tribal Areas in the northwest, which include the Frontier Regions. The government of Pakistan exercises de facto jurisdiction over the western parts of the disputed Kashmir region, organized into the separate political entities Azad Kashmir and Gilgit–Baltistan (formerly Northern Areas). Local government follows a three-tier system of districts, tehsils and union councils, with an elected body at each tier. There are about 130 districts altogether. The Tribal Areas comprise seven tribal agencies and six small frontier regions detached from neighboring districts [1].
Figure 1: Four Provinces and Federal Territories of Pakistan (source: http://en.wikipedia.org/wiki/Pakistan).
A.4 Historical Outline of Cadastral System
Last modified on 11-Oct-2012
The Process of Land Records Management in Indo-Pak sub-continent is very old. The Arthsastra is supposed to be the first Indian work to mention of the village officers known as "gopa" that are responsible for preparation of various registers for the village fields, transfers, due taxes, etc. but that was in a very rudimentary level. Attempt to reform the system was first made by Sher Shah Soori (ruled from 1534-1545) whereby land was categorized, measured and a schedule of crop rates fixed. The system was reformed during Mughal King Akbar regime (ruled. 1556-1605). "Todar Mal" as an adviser to "King Akbar", initiated the regularization of land records management for the first time and devised elaborate method for agricultural tax assessment on rational basis. The subsequent colonial rule by the British implemented the system on scientific lines whereby large scale cadastral surveys were conducted to demarcate the boundaries and extent of each individual landholding. Soil fertility was also classified to formulate and rationalize the levy and collection of land revenue from landholders of each and every village. The British set up a proper administrative hierarchy [3] [4].
In Pakistan's cadastral system was mainly developed for built for taxation [4] [5] [6] [7]. The levy of tax is more than four centuries old. The cadaster allows determining the surface of the parcel and based on that, a certain crop production is expected and complicated tax rate is finally applied. The tax rate is still mainly based on crop revenue as the country is still widely rural. The process of cadastral survey in Pakistan has not yet taken full advantage of modern technology available in surveying and mapping.
B. Institutional Framework
---
B.1 Government Organizations
Last modified on 11-Oct-2012
In Pakistan no agency at national level is responsible for land administration. Land administration policies and legislation such as land act are made at federal level and local governments are required to implement these policies. Consequently, this top-down approach creates many ambiguities among national and local governments those results in failure of successful implementation of land related policies. More over land related data is possessed and maintained at national level by different organizations due to mandate constraints and the data is not shared and made available to fellow organizations as well as to users due to lack of comprehensive national spatial data policy. Empirical study carried out in September 2007 in Pakistan shows that many public sector organizations working under different ministries are producing and maintaining spatial data at various administrative levels. A variety of data sources dealing with different data types including topographic maps, land information, social and economic data, statistical records, satellite data/ aerial photographs and revenue records operate in the country with specific tasks. For example, Survey of Pakistan (SoP) is responsible for preparing, archiving, updating and maintaining all kinds of topographic maps at varying scales. The provincial, divisional, district and taluka boundaries are also available with SoP. The land and revenue records are maintained by the local administration of provincial departments [9]. Table 1 displays those organizations that are responsible for land registration and for cadastral surveying and tax collection in Pakistan.
Data Type

Responsible organization

Responsible Ministry

Analogue Data

Digital Data

Use of web for Data dissemination

Level

Topographic

Survey of Pakistan (SoP)

Defense

Yes

Yes

No

Federal

Landuse/Land Cover

Pakistan Agriculture Research Council

Federal Ministry of National Food Security and Research

No

Yes

No

Rural Cadastral Data and Taxation

Board of Revenue (Separate for each Province)

Respective Provincial Governments

yes

No* (Work to convert analogue data into digital form is in progress)

No

Provincial

Urban Cadastral,Property Data and Urban Landuse

Development Authorities (DA-in Metropolitan Areas), Town Municipal Administrations (TMA-In small urban settlements), Private and Semi Government Housing Authorities, Cantonments (In Army regulated Housing Areas)

Planning and Development authority at Provincial level for DAs and TMAs, while Private and Semi Government Housing Authorities, Cantonments work and collect information independently about properties and Houses.

Yes

Yes* (Very Limited and Sporadic)

No

City/ Town/ Tehsil

Urban Property/ Real State Taxation

Provincial Excise and Taxation Department

Excise and Taxation

Yes

Not known

No

Provincial
Table1: Public Sector Organizations Producing Spatial Data in Pakistan
Source: Adapted from Asmat, 2009[5]
In Rural areas records of lands are maintained by Provincial board of revenue .Records of land in urban areas and those owned by the military and granted to housing and development authorities are maintained by those separate institutions, and the registrations are not lodged with the registrar or revenue departments [8]. In urban areas, if a property is situated in a housing society such as Defense Housing Authority Karachi or Model Town Lahore, then the land records pertaining to that property will be in the custody of that society. However, in other cases, authority and maintenance of land records falls under the general purview of the Board of Revenue (BOR) [10]. The number of institutions with responsibility over land registration has created no. of problems [9].
B.2 Private Sector Involvement
Last modified on 11-Oct-2012
All most all of the cadastral surveys and registration in Pakistan are undertaken by the state government departments such as Board of Revenue (BoR) (at provincial level) in rural areas and Government Development authorities (DAs) in urban areas. Private sector involvement is only in limited number of urban areas where land/property falls under the jurisdiction of private housing authorities. In such case only then land registration and survey is carried out by responsible private body. In some cases private sectors are now being involved for generating GIS and LIS for better management of land resources.
B.3 Professional Organization or Association
Last modified on 11-Oct-2012
There are two main professional organizations in Pakistan that are involved in surveying and mapping. First is Survey of Pakistan (SoP) which is responsible for preparation and maintenance of all sorts of topographic land surveys of areas of entire country on the scales of 1:50000, 1:250,000 and 1:1,000,000. SoP carries out survey activity using latest digital equipment and surveyors but no. of surveyors are not reported. Other than that, second professional organization is Board of Revenue (BoR) which is the the controlling authority in all matters connected with the administration of land, land taxation, preparation, updating and maintenance of cadastral records. They are not only responsible for land record issues, but also for many social, political, and administrative tasks, including keeping weather records, collecting crop harvest information, reporting of village crimes, and updating registers of voters. Cadastral surveys are carried by Board of Revenue through its specially hired surveyors known as "Patwari or Tapedar" in local language. Beside carrying out survey Patwari is also responsible for 1) The maintenance of record of the crop grown at every harvest. 2) The keeping of the record of rights up to date by the punctual record of mutations. 3) The account of preparation of statistical returns embodying the information derived from the harvest inspections, register of mutation and record of rights. According to an estimate there are 14000 patwaris in Pakistan responsible for approximately 190 million land records which contain data of 50 million land owners [9][11].
B.4 Licensing
Last modified on 11-Oct-2012
There is no concept of licensing and registration of cadastral surveyors in Pakistan. All the cadastral survey work is carried out by the government surveyors of state. Surveyors hired by survey of Pakistan are Diploma holders in Civil Surveying or Civil Engineering. While Board of Revenue has its own system and proper syllabus in place to select, train and take examination of surveyors/Patwaris.
B.5 Education
Last modified on 11-Oct-2012
There are no specific institutes that are responsible for granting separate and specific degrees in surveying. Although surveying related subjects are offered at all engineering universities in Pakistan under four years bachelor degree of civil engineering and there are postgraduate level study in geoinformation in few selected universities. Besides that, Survey of Pakistan and Board of Revenue do offer some short/ refresher courses in surveying and mapping for the departmental officers and staff, government sponsored candidate and private students. Board of Revenue has its syllabus to select, train and take examination of surveyors/Patwaris. This syllabus consists of 18 different topics such as land measures, map making, harvest inspection etc.
C. Cadastral System
---
C.1 Purpose of Cadastral System
Last modified on 10-Nov-2015
The development of Cadastral System of Pakistan has a common history with other counties of the region. The tax on land was initially collected through community head or a government official. Normally, the size of area indicated by the community was accepted. Historians have traced the regular survey and measurement of land during the rule 0f Alluddin Khilji (1296-1316) when the ruler attempted to collect revenue directly from farmers. He hired large number of accountants, agents and collectors.[1] The system was further improved during the period of two rulers Sher Shah Suri and Akbar the Great (1540-1605). 'Ain-e-Akbari', a book written by one of the Minister Abu'l Fazal, during the Akbar reign has recorded the measurement of provinces and sub-provinces of empire.[2] The British adopted the existing revenue collection system but to assess the revenue they carried detail survey of the land and this exercise was named as 'settlement'. The purpose of settlement was to determine that who will pay the assessed amount.[3] During the settlement cartographic sheets were used on which the parcels of land with unique number and measurement of area was indicated. The tribal areas and inhabited areas, however, remained excluded from 'settlement' during the British period and also thereafter.

The Cadastral System has backing of numerous laws ranging from collection of revenues, transfer and acquisition of right of immovable property, consolidation of land holdings, colonization and acquisition of land for public purposes etc. Though these laws have been promulgated by Provinces but the contents of Acts are same. The cadastral system have legal, fiscal and other multipurpose roles. The maps prepared by staff working under the Board of Revenue, helps in planning and control for land allocation to government department and agencies since no government department can acquire the land without the approval of Board of Revenue. Under the Acquisition Act 1894, the government can acquire land for public purposes both for government agencies and private companies.

[1] [1] Chandra, Satish (2004). Medieval India: From Sultanat to the Mughals-Delhi Sultanat (1206-1526) - Part One p-83

[2] Irfan Habib, Agrarian System of Mughal India 1556-1707

[3] Douie, Sir James M. 1981 6th Edition Lahore
C.2 Types of Cadastral System
Last modified on 10-Nov-2015
The cadastral system covers the whole area of Pakistan except tribal areas and inhabited areas. But the authority to manage the Cadastral System lies with Provincial government who enforce it through respective Boards of Revenue. The Federal government's Ministries and even Armed Forces are bound to approach Board of Revenue for acquisition or transfer of rights over land. The forest land in the record is indicated as State land and by an amendment in Punjab Forest Act 1927, the nature of protected or reserved Forest land cannot be changed.[1] All mines of metal and coal, all earth oil, gold washings belong to state even they are not entered in the land record as such.[2]
In the record of Board of Revenue, the inhabited areas at the time of settlement were referred as 'within red line' (Lal Lakir). Many areas which were part of agriculture or rural land at the time of settlement are now included in urban areas. The maps and record of Board of Revenue is therefore still used to determine the ownership right of such land now falling in urban areas. Hence the cadastral system also covers certain urban areas. In urban areas Cantonment Boards and Excise and Taxation Departments have certain jurisdictions and maintain their own record of properties these are only for collection of certain taxes. The transfer of rights on land can only be executed through Board of Revenue.
The transfer of real property in urban areas is executed mutually by the parties but it is mandatory to get register documents with the officers under the control of Board of Revenue in compliance of 'The Registration Act 1908'.[3] While registering sale deeds, these officers are not supposed to perform detail enquiry regarding authenticity of text of document. This leads to frauds, litigation and land grabbing.
The Development Authorities in Public sector and private housing companies or societies, can transfer rights of such land which they have purchased either from the government or private individuals, provided they have got ownership rights.
The rapid migration to urban areas since 1970s, rising cost of land and non-introduction of low cast housing schemes in public sector have encouraged illegal settlement and squatting. To regularize, develop and improve these settlement Provinces have introduced 'Katchi Abadi Laws' and established 'Authorities' under these Acts.
The linchpin in the land administration system is 'Patwari', who works in the field and is custodian of record. The name of Patwari is found even in literature and books of ancient India. 'Qunongo' (named Girdawar in some areas) supervise the work of patwari and verify entries in the record. Assistant Collector, Collector, Commissioner and Board of Revenue have supervisory role and have different sanctioning and appellate powers.
[1] Section 27 and Section 34-Aof Punjab Forest Land Act 1927
[2] West Pakistan Land Revenue Act 1967. This has been adopted by all provinces.
[3] Section 17 of the Registration Act 1908
C.3 Cadastral Concept
Last modified on 10-Nov-2015
The primary unit of a parcel of land is Survey Number or Khasra Number (in local language) which have a unique number in an 'Estate' and is registered in record of rights as such. A survey number may have part of its area cultivated and part uncultivated or part of one soil and part of another.[1] A Survey number may be owned by a single owner or several owners. As such scenario no (ii) in question 2.3 on page 6 is applicable.
The Estate is different from a village and may comprise of one village or several villages. This term is a legal expression defined by the Act and forms the unit of revenue assessment and land administration.[2] The boundaries of the estate are defined by boundary marks on the ground and on the map maintained by Patwari. The separate columns are maintained in the land record to show the ownership and actual cultivation of a particular Survey number. The cultivation may be by the same owner or by a tenant.
The holdings of landowners are indicated as 'Khewat' and of tenants as 'Khatooni'. The separate record of tenants in the land record protects the rights of tenants in the case of dispute over title and rents etc. Owner of land and land owner have distinguished entity. Every owner of land is a "land-owner" but every "land-owner" is not owner of the land. Mortgagees with possession are certainly land-owners within this definition but they are not owners of land.[3]
Definitions
Property: The word property has been defined as the right and interest which a man has in lands and chattels to the exclusion of others. It means not only the physical property but also rights in property.
Land: It includes benefits to arise out of land and things attached to the earth.
Survey Mark: Any mark set up by the Department of Survey of Pakistan.
Survey Number or Khasra Number: A portion of land of which the area is a separately entered under an indicative number in the record of rights.
Landlord: is a person under whom a tenant holds land and to whom the tenant is or but for a special contract would be liable to pay rent for the land.
Land-owner: A person to whom a holding has been transferred or an estate or holding has been left in farm, for the recovery of an arrear of land revenue.
Real Estate: According to 'The Punjab Real Estate Agents and Motor Dealers (Regulation of Business) Ordinance 1980', the "real estate" is an immovable property, including land, benefits to arise out of land, and things attached to the earth, or permanently fasted to anything attached to the earth.
Holdings: A share or portion of an estate held by one landowner or jointly by two or more land-owners. Vernacular equivalent is 'Khewat'.
Ownership Units: The Karam or Kadam is a main unit of measure of length. Its length is 66 inches. The square karam is known as Sarsahis and nine sarsahis make one marla. A kanal comprised 20 marlas. The housing colonies mostly used the terms of Marla and Kanals. One Marla is 20.90 sq. meter and one Kanal is 420 sq. meter.
Village Notebook (Lal Kitab): has valuable information and statistics regarding crops grown in the estate, soil classification, area under different crops, land use, transfers in land, wells and other means of irrigation in the village and abstract of the livestock and cattle census in the village.
[1] Mokal, Muhammad Iqbal Khan, 'The Land Revenue Act 1967', Lahore
[2] Mokal ibid, p-13
[3] Mokal ibid, p-14
C.4 Content of Cadastral System
Last modified on 10-Nov-2015
The survey of Pakistan a federal government Department carries out the survey of the whole territory but their maps only show the physical features and don't help in determining the ownership rights. For indicating minerals, forests and other installations the concerned departments use these maps as base sheet. The relevant to land administration is cadastral or field survey made by Patwari. He draws a field map (shajra kishtwar) showing the position and boundary of every field (survey number), and record the area of each field and the class or classes of land which it contains.
Followings Registers and records are maintained by the Patwari:
Register of Record of Rights (Misl Haqiyat); Mutation Register; Field Map; Harvest Inspection Register (Register Girdawari); Genealogical tree of landowners; Periodical Record; Statement of rights in Irrigation; Statement of customs respecting rights and liabilities in the estate; Daily Diary (Roznamcha); Village Notebook (Lal Kitab);
Though cadastral system is managed manually but it has detailed and comprehensive instructions on every operational aspect and have backing of laws. Different tiers of supervision are supposed to inspect the record regularly to ensure the correctness and transparency. But with the passage of time, supervisory and administrative control over work of field officers (Patwari, Qunongo etc.) has weakened and there are a lot of issues of transparency and reliability.
The computerization of land record was attempted as early in 1973 as a pilot project but remained unsuccessful. In 2004 Provincial government of Punjab started the computerization of land record in a phase manner with the assistance of World Bank. Initially the availability to copy of record of rights to stakeholders and transfer of rights over land through computerized system is the target. Though other Provinces have also started the work of computerization but the Punjab Province it has lead in this initiative and has completed 85% work. At the service centers established at Tehsil level initially following computerized facilities are provided.
Issuance Copy of individual's Record of Right (Fard)
Attestation of Mutation
Updation of Record of Right
Figure 4: Types of Land Records and there Classification.
D. Cadastral Mapping
---
D.1 Cadastral Map
Last modified on 11-Oct-2012
Pakistan's cadastre map is paper based graphical representation of land parcels which are drawn at large scale [14].A cadastral map of a village is called 'Mussavi'in local language. It shows all the fields, duly measured and numbered in a village. This is basically a surveyed paper map at different scales depending upon village area, normally at a scale of 1″=40 Karam= 200'-220' (about 1:2500 scale or so according to parcelsizes in the village). The yard-stick of measuring a field is called Karam which is 5.5 feet in length. Land parcels are labeled with their Khasra Number (parcel identification number) and dimension of each side. Each Khasra Numberis owned by an owner/s. Subdivision lines breakup an irregular land parcel in different regular geometrical shapes. The subdivision lines are generally represented with dotted line and defined for the area calculation on the map [6]. Depending upon an area, a whole village can be covered in a single map or there may be several maps of a single village covering specific portions of it.
There are basically two variants of cadastral maps (refer to figure below), Masawi and Shajra Tatima. First "Masawi" is a type of map which shows all the parcels that are with in a particular village along with unique identification no. (called survey no./Khasra no.) and dimensions. Masawi has further two types called Shajra Parcha/ Latha and Tehsil map/Fair copy of map. Shajra Parcha/ Latha is mosaic refelection of all the Masawis (maps) of a village. This map is primarily kept by the Surveyor/Village administrator (called Patwari) who makes temporal changes like splitting and merging of land parcels, usually with red pencil. On the other hand another copy of the same map is kept in government office which is known as Fair copy of map/ Tehsil map. Second type of cadastral map is called is called Shajra Tatima which is basically map prepared for a parcel or a portion of a parcel under the sole possession which is transferred from one party to second party.
Other prominent features of cadastral map are as follows [14]:
Maps are prepared in local language so they are easily understood by the natives.
Point Positioning is identified through permanent features like Tri junction pillars or plat forms, stone slabs, masonry and mud pillars or through natural features such as trees, water bodies thus the system do contain an initial level of scientific mapping.
Village boundaries are demarcated through tri junction pillars which are erected at every point where boundaries of more than two estate meet and are also shown on map by using red polygon like shape at the boundary.
Mainly these maps consist of parcel polygons only. Sometimes natural and manmade features are also shown on map for referencing purpose like prominent road, river, stream etc. but they are not always part of the map. More over built up area like houses and buildings are never shown on these hand drawn village maps.
Every map has a proper title (consisting of village name and village identification number, tehsil and district name of which it is part, along with the date when it was made) and legend which explains the symbology presented in the map.
Figure 5: Variants of cadastral maps.
D.2 Example of a Cadastral Map
Last modified on 11-Oct-2012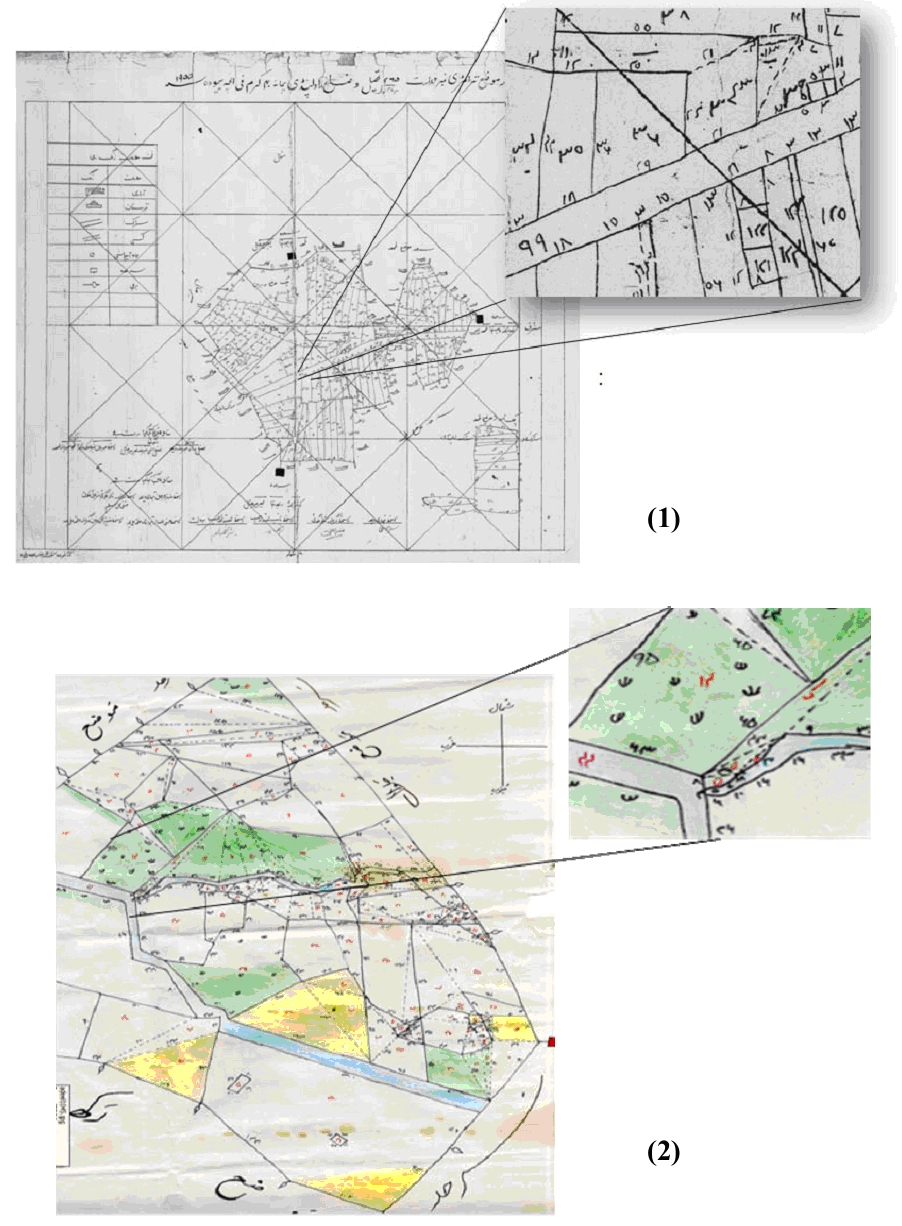 Figure 6: Cadastre map of two different areas in Pakistan (1) Islamabad rural area (2) Attock (Punjab province area) and their zoom in view (Source: Adeel, 2010 [14]).
D.3 Role of Cadastral Layer in SDI
Last modified on 11-Oct-2012
Currently in Pakistan the use of cadastral information is only limited within the fields of land administration and taxation and currently it is not being used for other purposes such as utility mapping, e-government and civic empowerment. One reason for that is the manual nature of existing cadastres which are difficult to comprehend, update and thus difficult to integrate in other types of spatial information.
In Pakistan land records management information system as e-government initiative is being implemented since 2005 to computerize land records. The dilemma is that each province has its own model. For instance, at the federal level land record project has different model than the land record model in the Punjab province as identified by World Bank in 2007. Moreover, there is also duplication in data collection as well according to the report. These can be seen as consequences of developing information systems such a land information system outside of SDI domain. As, SDI includes standardization to overcome interoperability issues from which information system development in Pakistan is suffering at the moment, therefore, there is a need to bring all the organizations engaged in computerization of land records together and to develop a standard model which is not being realized since 2005 [5].
E. Reform Issues
---
E.1 Cadastral Issues
Last modified on 11-Oct-2012
The major issues of existing cadastral system are as follows:
1) Policy Related Issues: Lack of a comprehensive legal framework governing land rights, absence of standardized documentation and registries of land rights, ineffective formal dispute-resolution systems, and the strength of multiple customary laws create insecurity of land tenure for owners and potential purchasers.
2) Obsolete and Opaque Cadastral System: The existing manual system of recording and maintenance, consisting of paper maps and registers has become obsolete and opaque with the ever increasing user - interactions and dimension of land rights. More over Land records do not provide either conclusive proof of ownership nor are they linked to spatial data to perfectly identify the plot [4] which gives rise to many land related disputes, cause delays in resolving pending cases and access to land related records.
3) Land administration from number of sources: In Pakistan, there is more than one organizations related with the land administration activities, which lead to the non-uniformity in the land administration. As policies pertaining to land are mostly crafted at national level in the country, there is no single organization to help implementing these policies at local level.
4) Reliability of cadastral information: Cadastral Maps are prepared in indigenous language using local obsolete surveying techniques and bearings and measurements; therefore, each map sheet has its orientation and accuracy. Consequently sometimes the edges of the map do not match with that of adjacent sheets. Cadastral maps are not integrated with national datum so that the land parcels cannot be integrated in other developmental activities launched by the government.
E.2 Current Initiatives
Last modified on 11-Oct-2012
A few efforts has been made in Pakistan to change existing system into digital form with the aim to make system simple that is efficient and transparent. The first project, named as Participatory Information System (PIS) was initiated in the Balochistan province and aimed at demonstrating a technologically superior option for land record management with the hope that it will be adopted by the relevant stakeholders. The PIS worked through specially hired staff from the market with a casual interaction with the revenue officials who are managing the paper-based land records at the moment [4]. Second initiative is with support from the World Bank, the government of Pakistan undertook a five-year (2007–2013) US $51 million Punjab Land Records Management and Information Systems Project to improve the land records service delivery of the Province of Punjab. The project's goals are to contribute to long-lasting tenure security and more efficient operation of land markets by upgrading the land records management system for Punjab Province. The project includes revising current business processes and associated legislation and regulations, establishing Service Centers where land records will be maintained and available to the public in digital form, and establishing linkages between the land records system and the system for registration of deeds (World Bank 2007c) [9].
F. References
---
Last modified on 11-Oct-2012
[1] Wikipedia. Pakistan. [Online] Available at: [Accessed September 2012].
[2] NEIMS. Land Use Atlas of Pakistan. [Online] Available at: [Accessed September 2012].
[3] Docstoc. Land Record System of Pakistan. [Online] Available at: [Accessed September 2012].
[4] Qazi.M.U.,2006. Computerization of land records in Pakistan: A comparative analysis of two projects from a human Security Perspective. [Online] Japan: United Nations Centre for Regional Development. Available at:
[5] Ali.A.,2009. Spatial Data Infrastructure for Land Administration in Pakistan. 7thFIG Regional Conference Spatial Data Serving People: Land Governance and the Environment – Building the Capacity Hanoi, Vietnam.
[6] Ali.Z. and Nasir.A.,2010. Land Administration System in Pakistan – current Situation and stakeholders' perception. FIG Congress 2010 Facing the Challenges – Building the Capacity Sydney, Australia.
[7] LRMIS. Project Management Unit, Board of Revenue. [Online] Available at: [Accessed September 2012].
[8] Ali.Z. and Adeel.M., Research Gate. [Online] Available at: http://www.researchgate.net/publication/215766558_Implementing_a_GISbased_cadastral_system_in_Pakista [Accessed September 2012].
[9] USAID Country Profile. Property Rights and Resource Governance-Pakistan. [Online] Available at: [Accessed September 2012].
[10] 'Land Record System in Pakistan', Blue Chip Magazine, Islamabad, August 2004, Vol. 1, Issue 3. [Accessed September 2012].
[11] Panchaud.N., 2010. Cadastral System in Pakistan Present Situation and Future Challenges, Cadastral Systems-Essay. [Online] Available at: [Accessed September 2012].
[12] Raza, Fawad, Almas, Muhammad and Ahmed, Kamran. (2005) "Land Records Information Management System". 25th Annual ESRI International User Conference. San Diego, California
[13] Real estate and Property Law in Pakistan.[Online] available at:
[14] Adeel,M.(2010).Evaluating the Role of Cadastre Maps in Pakistan's Land Administration: a GIS Perspective. FIG Congress,Sydney,Australia 11-16 April.
Part 2: Cadastral Principles and Statistics
---
---
1. Cadastral Principles
Last modified on 11-Oct-2012
---
1.1 Type of registration system



title registration
deeds registration

1.2 Legal requirement for registration of land ownership



compulsory
optional

1.4 Approach for establishment of cadastral records





systematic
sporadic
both, systematic and sporadic
all properties already registered
2. Cadastral Statistics
Last modified on 11-Oct-2012
---
| | |
| --- | --- |
| 2.1 Population | 176,700,000 |
| 2.2a Population distribution: percentage of population living in urban areas | 36 |
| 2.2b Population distribution: percentage of population living in rural areas | 64 |
| | |
| 2.3 Number of land parcels | 190,000,000 |
| --- Number of land parcels per 1 million population | 1,075,200 |
| 2.4 Number of registered strata titles/condominium units | 0 |
| --- Number of strata titles/condominium units per 1 million population | 0 |
| | |
| 2.5 Legal status of land parcels in URBAN areas: | |
| percentage of parcels that are properly registered and surveyed | 0 |
| percentage of parcels that are legally occupied, but not registered or surveyed | 0 |
| percentage of parcels that are informally occupied without legal title | 0 |
| 2.6 Legal status of land parcels in RURAL areas: | |
| percentage of parcels that are properly registered and surveyed | 100 |
| percentage of parcels that are legally occupied, but not registered or surveyed | 0 |
| percentage of parcels that are informally occupied without legal title | 0 |
| | |
| 2.7 Number of active professional land surveyors | 14,000 |
| 2.8 Proportion of time that active professional land surveyors commit for cadastral matters (%) | 100 |
| --- Approx. full-time equivalent of land surveyors committed to cadastral matters | 14,000 |
| | |
| 2.9 Number of active lawyers/solicitors | 0 |
| 2.10 Proportion of time that active lawyers/solicitors commit for cadastral matters (%) | 0 |
| --- Approx. full-time equivalent of active lawyers/solicitors committed to cadastral matters | 0 |